The 1986 911 Carrera. 3.2 litre, 6-cylinder, air-cooled engine. 207 horsepower. 0 to 60 mph in just 6 seconds. Top speed of 149 mph (at least that's the usual understatement of the factory). Nothing quite like this particular vintage of the 911 line.

Mine is Meteor Grey Metallic with a burgandy leather interior. No rear air spoiler, thank you very much. Power windows, a/c, and a sunroof. I removed the factory Blaupunkt cassette player and installed a new Blaupunkt Miami CD player. Also features a Momo silver ball shift knob.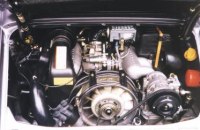 The 3.2 litre (3164 cc) engine features 6 horizontally-opposed cylinders, and is in the rear of the car. The 915-type transmission is a 5-speed. The car weights 2700 lbs. Bore/stroke is 95 X 74.4mm, and the compression ratio 9.5:1. Horsepower is a wonderful 207 @ 5900 rpm, along with 215 foot-pounds of torque at 4800 rpm. Redline is at 6300 rpm (6520 max). 0-60mph in 6 seconds, with a top speed of 149 mph. Front tires are Michelin P205/55 ZR16, and the rear Michelin P225/50 ZR16.
In 1984 Porsche introduced the 3.2 litre engine while renaming the car from the "911 SC" to the "911 Carrera", the name that refers to the Carrera Panamerica road race of the 50's, and was reserved by Porsche for cars of especially high performance. Along with the larger displacement came the Bosch Motronic DME injector system, and a 27 hp increase in power output.
1986 Available Colors:
Standard colors
536 - Pastel Beige
027 - India Red
908 - Grand Prix White
700 - Black
347 - Dark Blue
Special Colors
492 - Nutmeg Brown Metallic
822 - Garnet Red Metallic
33P - Iris Blue Metallic
33X - Prussian Blue Metallic
33N - Crystal Green Metallic
539 - White Gold Metallic
936 - Silver Metallic
20C - Moss Green Metallic
961 - Meteor (Grey) Metallic